Haney Family of Franklin County (Clockmaker)
Haney Family of Franklin County (Clockmaker)
Charles H. Haney was born September 07, 1860 in Edwardsburg, Michigan, in 1880 he went to Bloomfield, Iowa where he learned the jewelry business from his uncle. Charles worked at the same bench with his cousin, W.A. Shaeffer as they both worked for Shaeffer's father as apprentices. W.A. Shaeffer went on to invent the Shaeffer pen and start the famous Shaeffer Pen Company.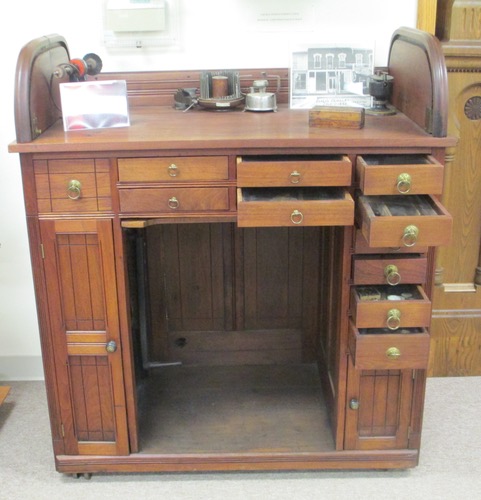 Charles moved to Belleville, Kansas, married, and ten years later, in 1895 Charles Haney settled in Hampton, Iowa and opened a jewelry, watch and optical store and contracted the job of keeping the Franklin County Courthouse clock going. This contract job lasted thirty some years!
Among the purchases Mr. Haney made was an Oak Jewelers Regulator Clock, made by the Waltham Watch Company in 1894 and imported by Mr. Haney from France. This clock cost $185.00 and was described as twelve feet tall and three feet wide. He also purchased a desk (now in the F.C.H. museum) manufactured to hold his clock repair tools.
Charles Haney had five children: Ralph, Verne (Ping), Gladys, Glenn and the youngest daughter, Beryl.
Ralph, Verne and Glenn, were not born in Hampton, Glenn, the youngest of the boys was four years old when Charles Haney moved to Hampton. After growing up in Franklin County, Ralph lived in Illinois and Clear Lake before moving to Hampton where he was a pharmacist. Ping, a World War I veteran, ran a liquor store for twenty years and then went to work with Glenn, who, after a short time, followed his father in the jewelry/watch/clock business.
Gladys moved to California with her husband. Beryl, born in Hampton, graduated from Hampton High School and attended Drake University, where she majored in Primary Teaching. Beryl's first teaching job was at Dows and her second was at Mason City, Iowa. She was a gifted singer. Her sister Gladys talked her into moving to California where her Iowa teaching certificate was accepted and she taught in the Pasadena schools for thirty-five years.
One of her students was a lonely little six-year-old black boy. She made an effort to comfort him, encourage him and kept in touch with him, following him through the grades and afterwards. In later years, when he was being honored for his accomplishments in sports, he stood and said, "Whatever success I may have achieved in football and baseball, I owe directly to one person. She was my primary teacher. She built up my confidence, she encouraged me, inspired me to do my best. So confident was she that I could and would succeed that this small black pupil, this six-year old, just could not let her down. She kept in touch for years after I had left her grade, still interested in me, offering encouragement, giving me confidence. Yes, had it not been for this primary teacher, whom we knew as "Miss Haney," Jackie Robinson would not be standing here tonight."
Glenn, although slight, was active in sports at Hampton High School. He played football in 1908, 1909 and 1910, serving as quarterback in 1908-1909. He was also on the high school track team that took the Boone Valley Conference title three years in a row.
After high school, Glenn took a job as an "electric picture show" machine operator in Albert Lea, Minnesota. There he met and married a talented singer, who also worked at the theatre, Lenora Mastin of Grundy Center, Iowa.
Glenn was thrilled when the Rock Island Railroad finally arrived in Hampton and would ride to Iowa Falls and then east on the Illinois Central for only two cents a mile. In 1911 Glenn purchased an Indian Motorcycle which was advertised to "make more noise than a freight train and to be faster than the fastest airship."
The original Haney store was opened in 1895 and the Hampton Chronicle of June 24, 1976 wrote that the store was the longest-standing store in Hampton. They interviewed eighty-four year old Glenn at his place of business, stating that his store was "a step back in time" but an enjoyable one.
Glenn's true love was clocks. He was paid $40.00 per year to make fifty-two trips per year, up two big flights of stairs on the main floor and then up more steps to the bell tower area, to wind and set the clock. Glenn figured he had made 2,000 trips with his father when he was young and at least 2,000 trips by himself. In the 1940's he made extra trips because of the pigeons. Two pigeons, sitting on one hand of the clock at a quarter of the hour, would stop the mechanism and he would have to go up and reset the clock.
He tried, without success, to get the county to put covers on the clock faces to protect against the weather (after the 1940 Armistice Day Blizzard the west clock face was frozen all winter) and pigeons. Instead of covers the wonderful old clock works were replaced in 1948 with an IBM electric control box. Glenn told the newspaper "They should never have changed it. The Seth Thomas mechanism would not have worn out in a thousand years."
Another sad historic change was the cupola, which at one time was very accessible to the public, hundreds of visitors, from 1895 on, left names and dates on the walls and beams of the cupola. The names and dates are now all gone having been painted over in more recent times.
The granddaughter of Verne (Ping) Haney, Mary Hawks, recently visited the Franklin County Historical Museum and stated that she has loved clocks all her life and her daughter Mallory is a professional actress and singer in New York, so the Haney heritage continues.