Sukup Manufacturing Company Stirway
Tucked away in the collection of retired farm machinery at the Franklin County Historical Society Museum is an early version of a grain stirring machine made by Sukup Manufacturing Co. of Sheffield.
The 1967-built Stirway was donated to the museum by inventor and company founder Eugene Sukup in the late 1990s.
"It's an original Stirway – the only original one I know of that's still around," Sukup said in a February 2015 interview. "It's a lot different than the ones we build today."
The Stirway, which evolved from the original Easy Stir machine Sukup created in 1963, used hydraulic cylinders to control a reversing switch. The switch enabled the stirring auger to move back and forth on the horizontal auger from which it was suspended, thus increasing the amount of grain that could be stirred.
Eugene Sukup personally delivered and set up the stirring machine at the historical society museum. Since Sukup Manufacturing is based in Franklin County, it seemed natural that its historical society should have an original version of the machine, he said.
"It's a great machine to have in our museum," said Joe Pitsor, a volunteer with the museum.
The Stirway is a great example of something that started as an idea and was developed into an innovative product through persistent improvement, Pitsor said. It met a need that many farmers had for a device that would stir corn to help dry it and prevent spoilage.
"I've always said we were in the right place at the right time," Sukup said. "This was the time when ear corn harvesting was changing to shelled corn, and people started drying corn in grain bins. But it would only dry about 3 feet deep … without being stirred."
The original Easy Stirs sold for $29.95, powered by an electric drill and hung by a chain from the top of a bin. The augers broke up crusted corn as intended, but the need for further automation quickly became apparent so farmers wouldn't have to repeatedly move the auger to stir grain in other areas of their bins.
Further development produced the Stirway model that would move back and forth and around the bin.
The first Stirway was installed on the Marvin and Verald Fink farm south of Dudley's Corner near Latimer, according to a plaque describing the Stirway exhibit. "This first unit was a single-auger machine built for use in a 24' bin."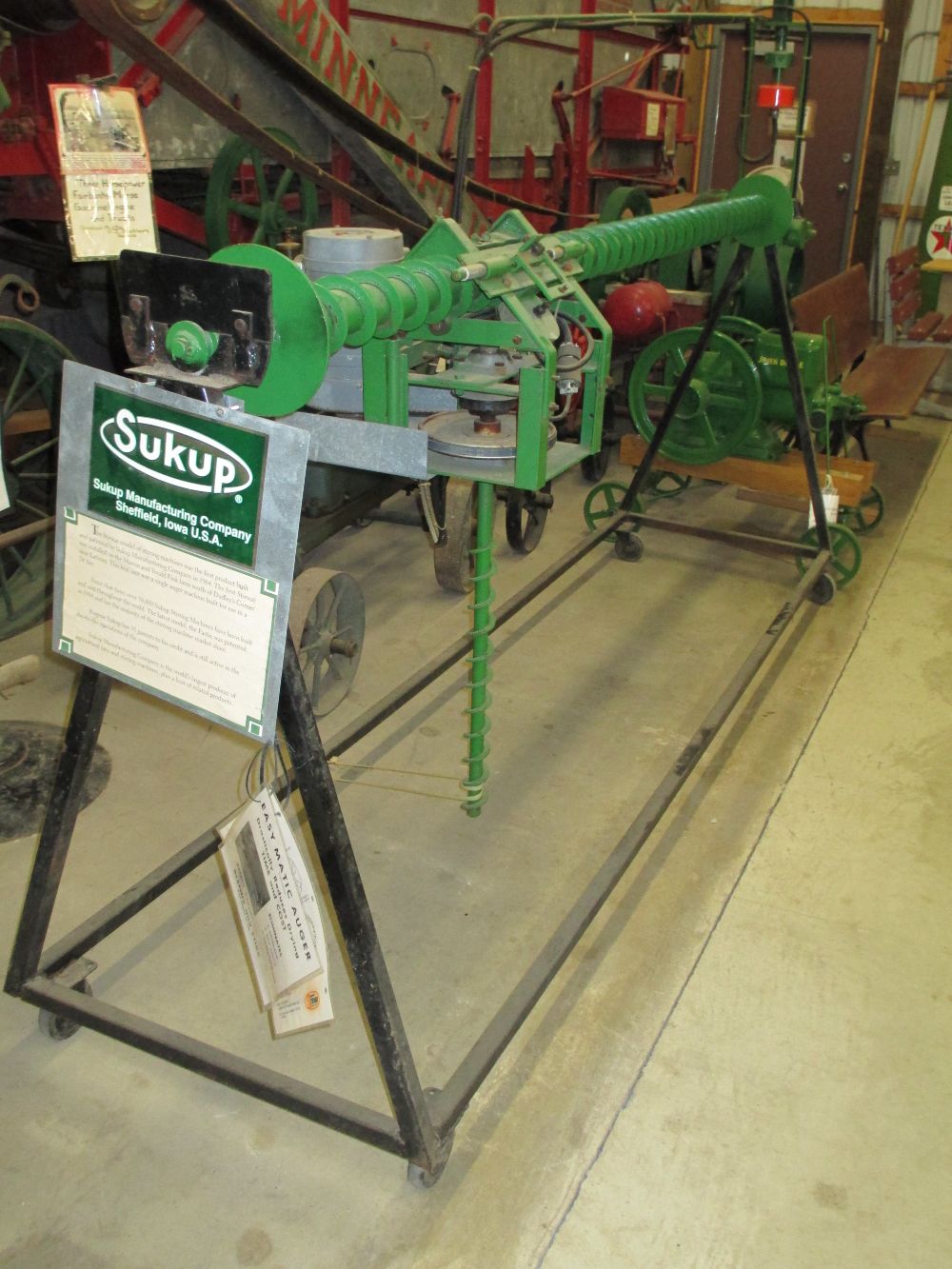 A promotional piece accompanying the Stirway exhibit touts how it drastically reduced grain drying time and cost, and eliminated spoilage, hot spots and over-dried grain. Units were available for 18' through 36' bins, with two mixing augers standard on units in 33' and 36' bins.
The design of Sukup grain stirring machines has changed a number of times since, and the size of bins they're used in has more than doubled, but the basic idea remains the same. There now can be up to five 22' down augers in a 60' diameter bin.
The Stirway became the best-selling stirring machine on the market. Sukup Manufacturing's subsequent development of grain handling, drying and storage equipment helped it grow from a small welding shop in Sheffield to an international leader in agricultural equipment manufacturing, with about 600 employees and products in more than 80 countries.
The company still sells several hundred stirring machines a year under the name Fastir.
The company is now led by Eugene and Mary Sukup's son Charles, as president, and son Steve, as chief financial officer. The company celebrated its 50th anniversary in 2013, and last summer moved into a new 46,000-square-foot office building made of structural steel, roofing and siding manufactured by the company.
And it all started with the stirring machine. In a sense, it helped put Franklin County on the international map of farm equipment manufacturers. The company's products are in more than 80 countries around the world.
Sukup Manufacturing Co. has more than 80 patents, including more than 40 by its founder; all part of a company mission to make grain farming more productive, safe and efficient.
The benefits of the company's growth in Franklin County have been immeasurable. It is the county's largest employer and has helped countless local initiatives and organizations.
"He's been very good to Franklin County and supporting local projects," Pitsor, a retired farmer who worked for many years in farm management, said of Eugene Sukup.
Submitted by: Joe Buttweiler, Technical Writer, Sukup Manufacturing Co.