Museum Exhibits
Along with many donations from local residents, numerous items and records were acquired. The courthouse was remodeled in 1970, and soon we were bulging at the seams. In 1982, a steel building was built at the Fairgrounds on land leased to the Society by the Franklin County Fair Association. The museum now consists of a 4-H and FFA room, library, military room, machinery hall, and a large display area for permanent and rotating displays.
Bob Artley, Author, Cartoonist, Illustrator
Franklin County Native, 1917-2011
Bob Artley grew up on a farm in rural Franklin County. He became the editorial cartoonist at the Des Moines Tribune in Iowa and later hired to do cartoons and illustrations for the Worthington Daily Globe in Minnesota.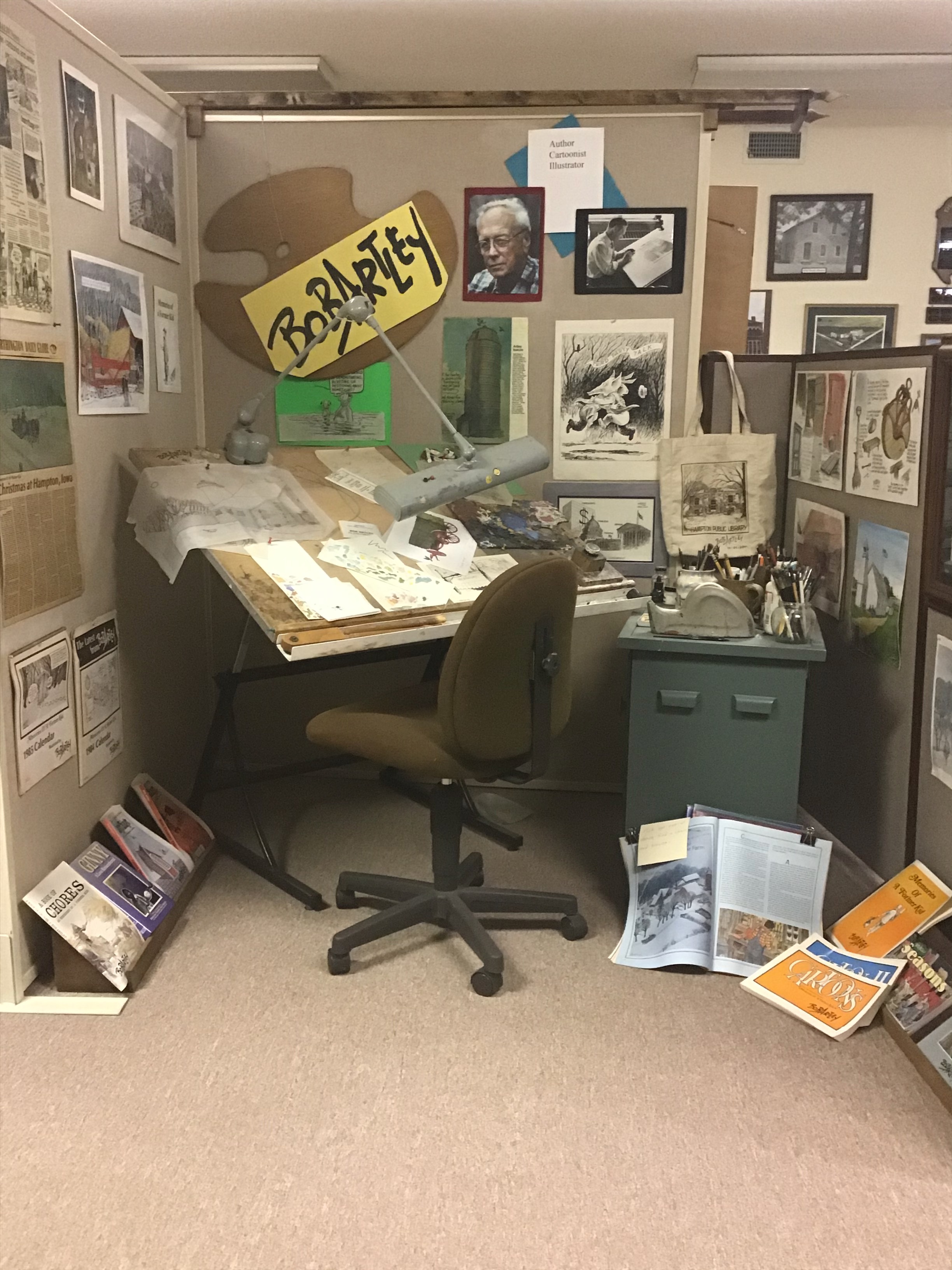 Mr. Artley wrote and illustrated books about farm life in the 1920's and 30's. "Memories of a Former Kid" easily his most popular series, is a look at farm life from a child's perspective. The display is a sampling of Bob's editorial cartoons and watercolors, as well as a number of the books he has in print.
The exhibit also includes his original drawing board and equipment stand.
Sukup STIRWAY built in 1967 on display in machinery hall
In 2015 Eugene Sukup said: "It's an original Stirway – the only original one I know of that's still around. It is a lot different than the ones we build today."
Eugene Sukup and his two sons, Charles and Steve, have built the world's largest family-owned manufacturer of grain drying equipment by finding solutions that make the impossible possible. Sukup Manufacturing's success has followed the innovation paradigm Eugene developed as a young Franklin County farmer during the late 1950's. The business is located in Sheffield, Iowa.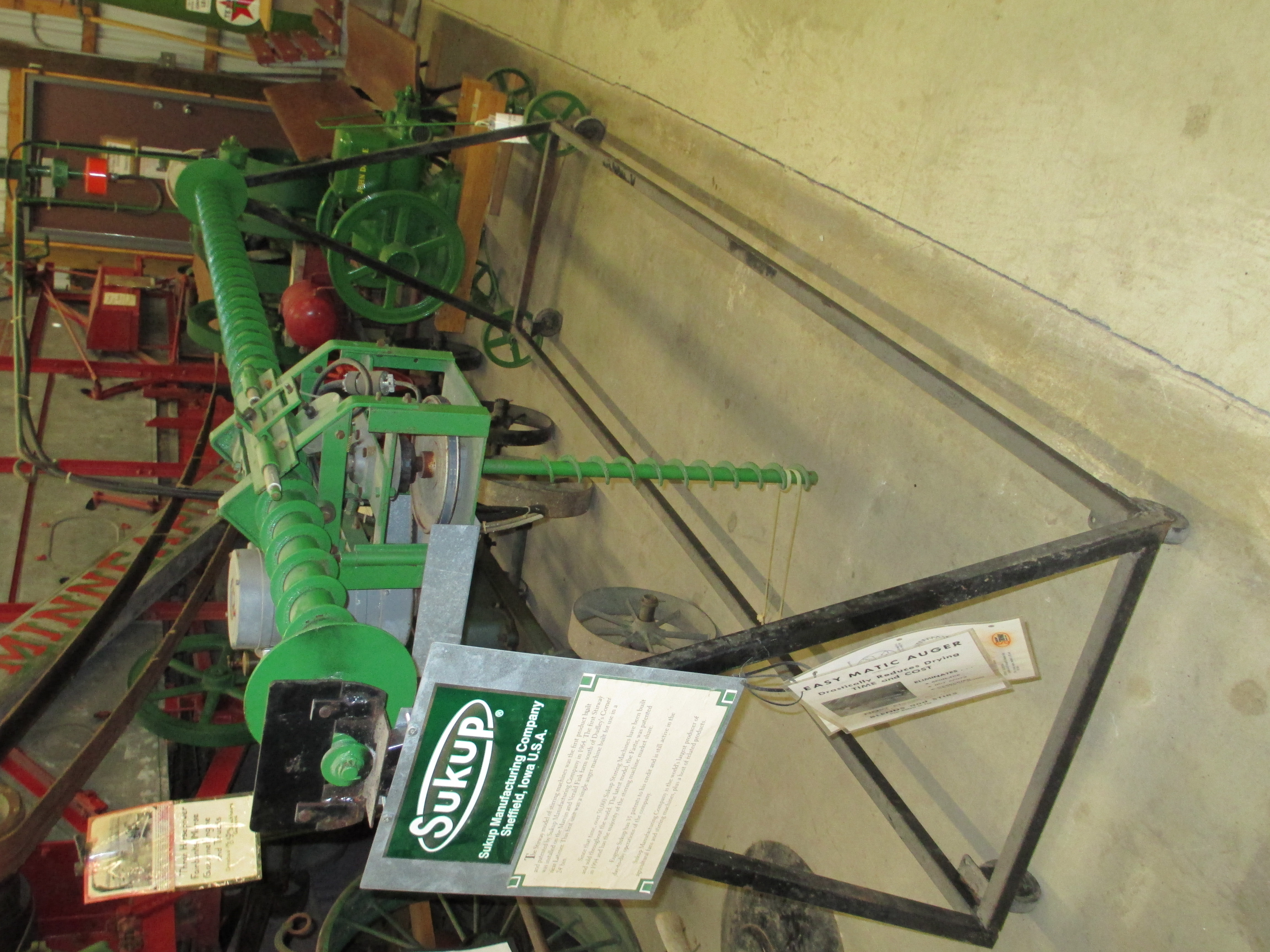 I
Library - Newspaper Collection
The newspaper collection provides a valuable look back for many generations. It is important newspaper records are preserved to provide a lasting account of our county. The collection ranges from the 1878 Franklin County Recorder to the current Hampton Chronicle.
Ice Box Story
On September 19, 1932, Alma t. Wilson (Wilkinson) purchased the first Frigidaire refrigerator sold in Hampton from Ray Fox, Fox Brothers Furniture, Rugs, and Linoleum, Licensed Embalmer and Funeral Director. On the same date, her husband, Lee Wilson, the "Ice Delivery Man" who supplied the ice for the many iceboxes in Hampton kitchens, and owner of the Wilson Ice Company, was attending a prize fight in Chicago with friends.
Donated by Alma's daughters: Gerry Wilson Pletsch and Elizabeth Wilson Crotty
Admiral William D.

Leahy

Display
The Franklin County Historical Museum proudly boasts as the site of the finest display in the nation of artifacts and memorabilia honoring the life and times of Admiral William D. Leahy, including a model of the U.S.S. Leahy.